Hydro Alunorte Refinery in Brazil. (Photo: Hydro)


PARAT will deliver a 60MW Electrode Steam Boiler with 13.8kV connection. The boiler will have a design pressure of 18 barg and design temperature of 210°C and be able to provide over 100 tons of steam per hour.

We will also deliver Circulation pumps, Chemical Dosing System and Blowdown System along with commissioning and startup. The Electrode Boiler Control system will be integrated into Hydro Alunorte's main system.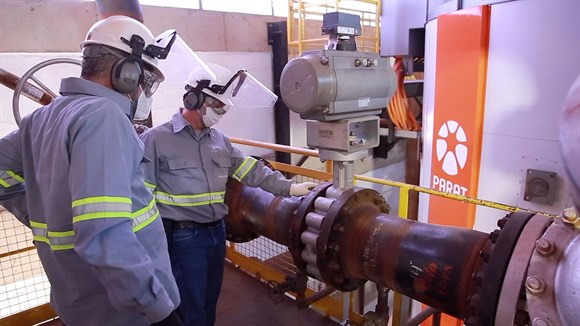 Alunorte alumina refinery in Brazil can reduce carbon emissions with Electrode boilers. (Photo: Hydro)


Hydro Press Release: Alunorte alumina plant fires up first electric boiler
Hydro's commitment to be carbon neutral by 2050 includes a change in the energy used at the Alunorte alumina refinery in Brazil. A new Electrode boiler could cut carbon emissions by 100,000 tonnes per year – and there's more to come.

The new electric boiler, with more modern technology and greater capacity, is starting to operate at Alunorte, which is in the municipality of Barcarena, in Pará State. The nominal generation capacity is about 95 tonnes of steam per hour, consuming 60 megawatts and with the potential to reduce around 100,000 tonnes of CO2 emissions per year.

The BRL 42 million project was carried out in about 20 months and, initially, the boiler will operate with energy purchased from the market (the boilers have been fired by coal). Investments in renewable energy through joint ventures and long-term purchases are already being studied. In addition, the company is studying the addition of two more electric boilers, expected to start operating in 2024.

"Innovation and technology development are the main enablers of CO2-free processes. Our ambitions for the future are to reduce our own emissions globally by 10% by 2025 and 30% by 2030. This project plays an important role in the company's global climate strategy," says Carlos Neves, Hydro's director of operations for Bauxite & Alumina in Brazil.
The new electrode boiler from PARAT will be a high capacity steam provider with clean Power to Heat. (Photo: Hydro)


Hydro Alunorte, Brazil
Hydro Alunorte is the world's largest alumina refinery outside China and is located in the city of Barcarena, state of Pará. The alumina is the raw material for aluminum and is produced from bauxite, through the process called Bayer. With a total production capacity of 6.3 Mtpa (million tons of alumina per year), distributed in its seven production lines, the company supplies the national and international markets.